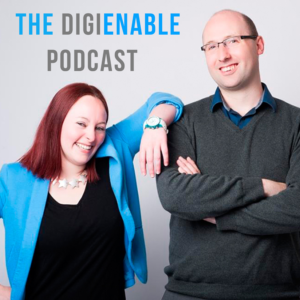 In this episode we talk about all the digital things you need for summer – streaming, weather apps and our productivity summer school!
Show Notes:
1. Productivity Summer School
4 weeks of discounted course for you to get stuck into before the start of Sept "school time"
https://elearning.digienable.co.ukOr use promo code "SUMMER2022"
Making the most of your mornings, Zenforinbox, Become a Scheduling Superstar and Decluttering using digital
2. Netflix subscribers are dropping! Here's some free alternatives for summer Stream&Chill time
The streaming giant's biggest threat is competitors are catching up
https://thenextweb.com/news/netflix-subscriber-losses-dont-mean-streaming-is-dying
So some alternatives…
For Live TV check out Pluto – https://pluto.tv/en/live-tv/5-cops-gb
For freemium films check out Rakuten TV https://rakuten.tv/uk
3. Shopping Trends for 2022 News
Shopping habits have drastically changed over the past few years. For instance, while most of us previously browsed retail stores on a Saturday to find great deals, we now turn to Instagram to find discounts offered by influencers.
And rather than watching TV ads to find out about new products, nowadays, most of us stumble across ads in between YouTube videos.
*71% of Gen Zers prefer to discover new products via social media — but they still like to make purchases in-store.
*Millennials and Gen Xers prefer to discover new products on social media through ads or sponsored content — while Gen Zers prefer discovering new products on social media through short-form videos.
*When shopping online, roughly 75% of consumers prefer using their mobile devices, compared to 15% that prefer desktop and 6% that prefer tablet.
https://blog.hubspot.com/marketing/shopping-trends
Top tips round up…
Social Media: Instagram now most popular news source among British teens
An ofcoms report finds Instragram has become the most popular news source for young British teenagers, with BBC TV channels sliding from first to fifth place in the past year.
TikTok was the second most popular platform for young teenagers seeking news. It reached 28 per cent of 12-to 15-year-olds, up from 11 per cent two years ago, and enjoyed the largest increase in use among all Britons over the age of 16.
Yih-Choung Teh, Ofcom's group director for strategy and research said "while youngsters find news on social media to be less reliable, they rate these services more highly for serving up a range of opinions on the day's topical stories,".
https://www.ft.com/content/3723fdb3-6551-4589-920f-837f69e8c7ba
SEO: Google Local Service Ads Seeing A Lot Of Fake Reviews
Looking at local reviews for summer vacay options? Then take the reviews with a pinch of salt!
Clearly, this is gaining the attention of the local SEO community and Google will have to act but by the time Google acts, will Local Service Ads be untrusted?
https://www.seroundtable.com/google-local-service-ads-with-fake-reviews-33810.html
And for "all sides" of a news story, you can check out other people's pov's at https://www.allsides.com
Productivity: Weather Ticker
Want to know what to do and when? Weather can play a big part in that. Favourite Google Chrome Extension of the moment!
Favourite podcast/audio book/ book of the moment
Flow: The Psychology of Happiness by Mihaly Csikszentmihaly (Book Club 22nd Aug)
https://www.eventbrite.com/e/online-book-club-flow-by-mihaly-csikszentmihaly-tickets-368894963767?aff=ebdsoporgprofile
Book club in Sept will be The Miracle Morning by Hal Elrod
Favourite app of the moment
Join our Facebook Group here…