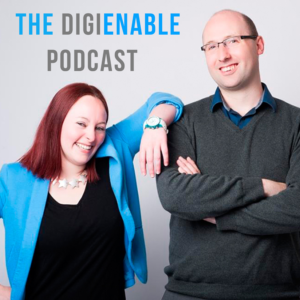 In this episode we talk about summer vibes, AI being all-over and top tips on how to get the most out of digital, for you, your marketing and your world!
Show Notes:
1. Top summer activities while listening to podcasts
Are you planning on a road trip or beach day? Going to listen to your favourite podcasts? You're not alone!
Road trips (77%), Travel (72%), Outdoor activities (65%), Beach days (50%), poolside lounging (42%), outdoor dining (37%), camping (30%).
https://inside.com/campaigns/inside-podcasting-38713/sections/veritonic-summer-listening-372097
2. The AI fights continue!
In our last podcast we talked about the fight with the current AI systems – OpenAI started with ChatGPT, Google has Bard, Baidu has Ernie, and Microsoft uses ChatGPT into Bing and Edge.
Now we are seeing Elon Musk wanting to start his own "TruthGPT" to "maximise truth-seeking – https://www.cnbc.com/2023/04/19/elon-musk-says-he-wants-to-create-chatgpt-competitor-called-truthgpt.html
American writers are striking with the risks posed to them with AI bots – https://www.reuters.com/technology/plagiarism-machines-hollywood-writers-studios-battle-over-future-ai-2023-05-03/
And Google publically launches it's Text to music AI bot – https://techcrunch.com/2023/05/10/google-makes-its-text-to-music-ai-public/?guccounter=1
We also see OpenAI creators calling on law makers to set licencing laws and regulations for conduct for using AI – https://www.bbc.co.uk/news/world-us-canada-65616866
3. How to use digital to make your business or organisation more environmentally sustainable
Can applying digital productivity methods to a business help to make it more sustainable?
https://medium.com/mettatalks/using-digital-to-make-your-startup-more-sustainable-93e01992d917
Top tips round up…
Social Media: Last podcast we talked about LinkedIn Launching 'Collaborative Articles' Powered by AI to Help Boost Member Engagement, this time it's AI powered profiles and job descriptions
https://www.theverge.com/2023/3/15/23640947/linkedin-ai-profile-job-description-tools
SEO: Google My Business – Request Reviews
Want more SEO traffic? Google search LOVES GMB reviews! Users don't event need a gmail email address, they just need a google login.
https://support.google.com/business/answer/3474122?hl=en-GB#create_and_share_a_link
Productivity: The Productivity Club!
We are very excited to launch our new domain and updated portal for our Productivity Club!
https://www.productivityclub.co.uk/
Favourite podcast/book/app/site of the moment
Zapier for all your automations of tasks and processes https://zapier.com/