Do you carry a smart device in your pocket or bag pretty much all day everyday? Then you could be using this vital tool to help with your marketing and digital storytelling for your business or organisation!
A smart phone or tablet can help you take photos, videos, edit them, add text, make them look all shiny and engaging and share with your clients, customers, supporters and the world. Awesome hey?! But you might need a bit of a hand getting those images as good as possible, with the tech you have to hand. Here's where we can help.
Digital Storytelling, as it's core, is simple, storytelling via digital. In this case, using photos.
We love the Wikipedia explanation of what digital storytelling is…
"Digital storytelling refers to a short form of digital media production that allows everyday people to share aspects of their life story. "Media" may include the digital equivalent of film techniques (full-motion video with sound), animation, stills, audio only, or any of the other forms of non-physical media."
So now we know what Digital Storytelling is, let's get to work producing some!
We hear you ask "is it really that important, I'm so busy?!" here's some reasons…
Increase Credibility
Showcase where their money goes
Emotional connections, what's your story?
Learning/Seeing more/insider view
Example case studies – could that be you?
Reasons to fund/sponsor
Actionable for customers/clients/contacts
So hopefully there's at lease one reason in there that's important to you and your team. For a reflective engaging online presence it's good to aim for a range of different styles of photos.
When you have an idea for an engaging image to take, always think about the Who, What, When, Where, How of "Photo Ops". This can be useful to think of when you're planning your images, especially if you're going to use a series of different images to portray a story.
If you have the time to plan your shot, think about the following…
Characters
Story & Emotions
Props
Framing
Platform
Style of shooting/editing
Then when you're ready to "shoot" the photo, make sure you check your surroundings and what you can see through the lens.
What can you see in shot? Foreground/Background
Is there enough light in shot?
Is the shot framed straight and steady?
Can you reposition yourself for a better view?
Can you reposition the object/person of focus?
What would make this shot better?
Do you have a plan to edit before use?
Here's a useful image to explain the different types of shots and their names…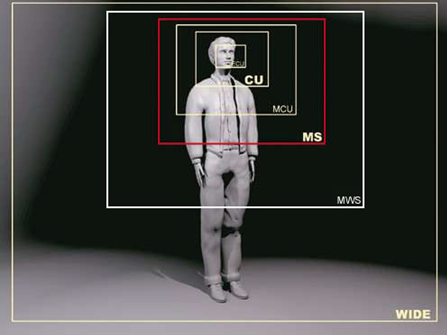 And here's an example of how planning what you're going to use the image for in advance, can be really beneficial. The red boxes represents the dimensions of Instagram images and the green boxes represent Facebook and Twitter feed images. In the below example the left hand shot would be a poor framing for an image going on Twitter or Facebook, and would be much better to get the adults to crouch down to the young guy's height and take the shot as a landscape framing – like the one on the right. Photos: Twitter/@RMHCUK
I mentioned before about different types of shots, normally they can be sectioned off into Group Shot, Individual Static Shot, Action Shot, Object Shot. These could also be "in-situ" as-and-when-they-happen, or actually set up posed for shots. (How cheesy you get, is up to you!).
While we're on the topic of knowing where you're content is going, let's look at some statistics that are useful to the conversation.

90% of information transmitted to the brain is visual. Visuals are processed 60,000X faster in the brain than text.

Images on social media get 150-200% more engagement and shares

than those without.

Stats:Buffer.com
So, if you want those fab images to get seen, social media can be a fab tool to getting your digital stories out there.
To get your content seen online, here's out top tips…
Be Regular and if possible unique
Get others involved – helpers, guest bloggers/users, ask for support, nodes
Build a Buzz about your stories and brand
Think about your target audience
Always think "where's the photo op" in everything you do
Then, if you want to edit or prettify them up, here's some good apps we'd suggest for first-time users…
Phonto – http://www.phon.to
Snapseed – https://support.google.com/snapseed
Photo Studio – http://www.kvadgroup.com/home.php
And if you want to make your images move, it's definitely worth having a peek at GIPHY Cam.
Hopefully this has been a helpful post to get you started using photos more to tell your story, but also getting the best images with the equipment you have available.
So when you're producing your photos for digital storytelling, don't forget to…
Plan ahead!
Think about how you could make the shot better
Take variations of photo – try portrait/landscape, Flash/No Flash
Get permission – person/place
Be creative
Remember health and safety – no photo is worth putting yourself in danger for
We always love to see a good photo story, so do Tweet us @DigiEnable with your best efforts, we love to hear from you.