To say 2020 has been a journey would be an understatement. I could talk about worldwide pandemics, global shutdowns, and economic uncertainty, but to be honest I think we're all a little bit sick of it. Instead, I thought I'd share with a bit of personal journey I have been on, one which all started with regular business networking, a photo that even shocked me and a visit to the doctors.
I've always been a relatively healthy person. As an ex-employer recently reminded me, at the age of 19 I was carrying over 100 crates of alcohol up and down a flight of stairs on a daily basis. I was running 12-15 miles on a weekend, and studying in Manchester, where I'd walk 10 miles a day just to avoid paying the bus fare (I've always been a bit tight, that'll never change). I've always been partial to a take-away, but the regular exercise, and to be honest, the metabolism of a 20-year-old, meant I always stayed in good shape.
But that all started to change the moment I got my first desk job. Sitting in an office for 9 hours a day, popping to the sandwich shop for lunch, telling myself that you can't eat a sandwich without a bag of crisp…and a drink…and a bar of chocolate became the norm. Starting my own business (DigiEnable) took this another level. I was traveling the country on a daily basis, Service Station's started to become my inevitable pit stop along the way, and if I'm stopping to use their toilets, it's rude not to buy something sugary while I'm there, right?
Business Networking. 2 days a week with a slap-up English Breakfast, another day with a two-course meal, one with all-you-can-eat pizza. I'm sure you can see where this is going. To put it mildly, I was eating far too much, and was nowhere near active enough to counter it…and my weight started to creep up. I'm not going to pretend that I was oblivious to this. In fact, I was well aware, aware enough to start following the 5:2 diet. But all that did was stop me getting really big because on those 5 days of not dieting, I was still snacking and hitting the energy drinks I was picking up on my travels.
I'm not really afraid of being vulnerable, so I'm going to share with you the photo that when I saw it, started to concern me. It was a press shot for a community project I work on, and just seeing how strained the buttons of my shirt looked made me realise that I needed to change.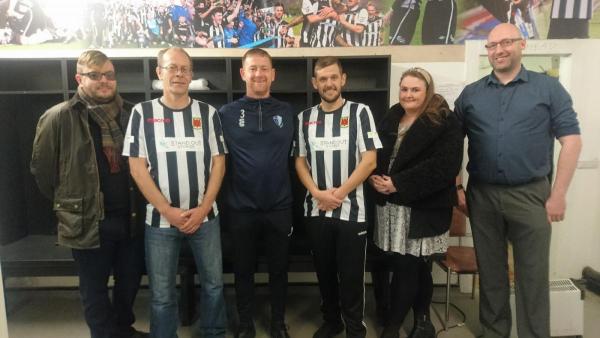 For those who don't know me, I'm the guy on the right. When I first saw this picture, I didn't even think that there was anything I should be concerned about. That's just me, and you know the saying, the camera adds 10lbs, so it's probably just an unflattering angle. But, I was starting to feel a physical difference. I've always had asthma, so again, if I was feeling out of breath, it was my asthma playing up, unfortunately just another excuse.
About 3 weeks after this picture was taken, I received an email from my Doctors asking me to go in for my regular asthma test. When I walked into the Doctors office, I don't know what she saw, but she asked if she could do a few other tests while I was there. After around 15 minutes of being strapped into a few devices, she told me that she was concerned about my BMI. I've never taken this too seriously before, but I was starting to come to the realisation that I was not in good shape.
Pretty much straight away, my lifestyle changed. More home-cooked meals instead of take-out, a complete ban on energy drinks, and more regular visits to the gym. Now the gym, there's an interesting story…I did quite enjoy telling people I was a regular gym go-er, I didn't always tell them that I meant 20 minutes on a treadmill followed by 40 minutes in the Jacuzzi, but at least I was doing something. And you know what, very slowly the weight started to come off. That day in the doctors, I weighed 108kg (17 Stone) and through a better diet, I'd got down to 104kg (16st 5lbs). Good, but not good enough.
Ok, let me take you to a very specific date, March 23rd 2020…the day the UK "Locked Down".
I was one of these people who resented the idea of being told that we had to stay indoors, and when invited to go outdoors for exercise once a day, I decided that would be exactly what I would do. But without gym machines and electronic scales, I did what we do here best at DigiEnable….I turned to technology.
There are three apps that I have used consistently throughout this lockdown period, which have helped me work towards my fitness goals, and I thought I'd share them with you in this blog.
1) Fitbit
I've been wearing a Fitbit watch for over a year now, but have never taken it overly seriously, but it was good to know the level of activity I was involved in. My life insurance provider has a number of incentives for hitting fitness targets which I liked to take advantage of, but I would always do just enough.
Fitbit has a number of key features which I have found useful and they are listed below:
1) Tracking Steps – Probably the most obvious use of a Fitbit, but whether it's running, walking or jogging, you can track how much distance you are covering in a day. You can set your own personal goals of how far you would like to go. I started with the NHS recommended 10,000 steps a day, but have recently upped this to 12,500 steps a day. I can't explain why, but the little fireworks animation on my Fitbit Blaze when I hit those steps makes it feel like I've achieved my fitness goal for that day.
2) Programs – You get free workout programs, nutrition programs and even meditation tracks to keep not only your body healthy but your mind too.
3) Audio and Video Workouts – If you prefer watching or listening to workout instructions, you can access them from the comfort of your own home. Being a premium member allows you to unlock over 240 plus workouts and a host of other features as well.
4) Sleep Tool – With this, you can keep track of your sleeping pattern and understand if you are getting sound sleep every night or not. I'm still not the greatest sleeper, averaging around 6-7 hours a night, but it's interesting to see and analyse what leads to a positive night's sleep, and from everything I've read, good sleep is key to a healthier lifestyle.
5) Calorie and Heart Rate Tracker – Although not very extensive as the previous app, this one is sufficient for those who just want to get an estimate of the calories they consume every day. You can also use the heart rate tracker to understand your heart rate trends and remind you to relax whenever you get stressed. However, tracking my calories has been important, so I needed another solution for that…
2) MyFitnessPal
MyFitnessPal has pretty much revolutionised the way I eat. As I mentioned earlier, I've always been a "snacker", taking advantage of the included meeting buffet, stopping at the shops on the way home for a "driving snack". I needed to know exactly how much I was eating. I've never believed in extreme diets. I don't like the idea of starving yourself, because life should be enjoyable, and unfortunately food is so damn enjoyable. But the first time I tracked a day's food, I was shocked. The number of calories I was taking in was ridiculous. This needed to change.
So, I started tracking everything but also planning everything. I would write out my meal plan for the day, enter it into MyFitnessPal, and always aim to stay a couple of hundred calories under my recommended daily intake. By doing this, I can work at a small deficit and hopefully not feel hungry all the time, and it's worked. I'll share the results later, but first, let me tell you more about the app. This fitness app is targeted towards those who like to keep track of their calories and burn fat in the most efficient way possible. You also get a ton of customisation capability to tweak it as per your specific needs and goals.
Key Features:
1) Huge Database – One of the most important aspects of the calorie counter app is its database and you get over 11 million types of food in this app.
2) Barcode Functionality – Need to know exactly how many calories come in your packaged food? All you have to do scan its barcode and you are good to go. The app also supports over 4 million barcodes.
3) Insights – Get more information about healthy foods that you can add to your diet.
4) Customisation – You can create personalised foods and recipes and save them into the app. You can also log your breakfast, lunch, snacks and dinner too.
5) Calorie and Macro Tracker – This makes it easy to keep track of every calorie that you consume daily. You can also keep track of the amount of sugar, fibre, cholesterol, vitamins and more to get a better overall view of everything that is going into your body.
Bottomline
If you are looking for a calorie counting app that can give you a detailed view of everything you consume, then this would be the right app for you. You can also connect it to other fitness-based apps such as Fitbit, Garmin, Runkeeper and more for better synergy.
With my tracking sorted, I just needed to sort out an exercise plan, and believe me there is enough out there, but I know that if I went too hard, too fast, I'd regret it. So, to begin with I decided to get out of the house, and get moving. Say Hello, to the Couch to 5k app.
3) Couch to 5k
This is a paid running app (around £2-£3) that comes with a variety of features designed to help you meet your goals. All you need to do is spend about 20 to 30 minutes every day and you will be able to see the results in a few months.
Key Features:
1) Interactive Training – You get to choose from 4 virtual trainers who will keep interacting with you and motivate you along your journey. Each trainer comes with their area of expertise and personality to keep you engaged and inspired.
2) Audio Cues – With the help of audio cues, you get to immerse yourself in your workouts and get a proper understanding of your training regimen.
3) GPS Support – With GPS support, you will be able to calculate the distance you have travelled, pace and even map your routes for better convenience.
4) Social Aspect – You can share your workouts and progress to your friends on Facebook and motivate each other.
5) Notifications – If there is a running event near your area, you will receive notifications about it. If you are registered with Active, you can even connect with other users in your area and train together.
Bottomline
If you are interested in jogging or running and need to lose weight, then this is an excellent app to use. It keeps you engaged, motivated and allows you to customise and keep track of your goals.
To put it simply, I've made a couple of key changes, but staying consistent has been down to the tech.
Walking 12,500 steps a day, measured with FitBit
Tracking my food with MyFitnessPal and aiming for 2400 calories a day, allowing myself 2800 if feeling I need it.
Running three times a week to complete the Couch25k programme, and focusing a little more on exercise during the week.
Has it made a difference, well, see for yourself.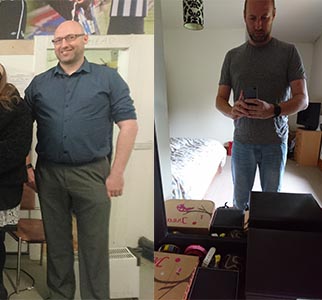 I'm currently at 93kg (14st 9lbs), a bit of a difference from the 17 stone I started at. But more important than the numbers is the fact that I now feel better, healthier, stronger and faster and am able to focus more on my business rather than worry about my health.
Who knows, I may update this in 6 months and see whether post-lockdown and back to business makes maintaining this lifestyle easier or harder.