If you want your business's website to get higher rankings in local search, improve its click-through-rate, and promote your products or services more efficiently, one free and effective tool that you should utilise is Google My Business or GMB.
One key reason why you should invest ample resources toward GMB is the increase in mobile search which translates to traffic opportunities, especially for competitive searches.
Here's ours…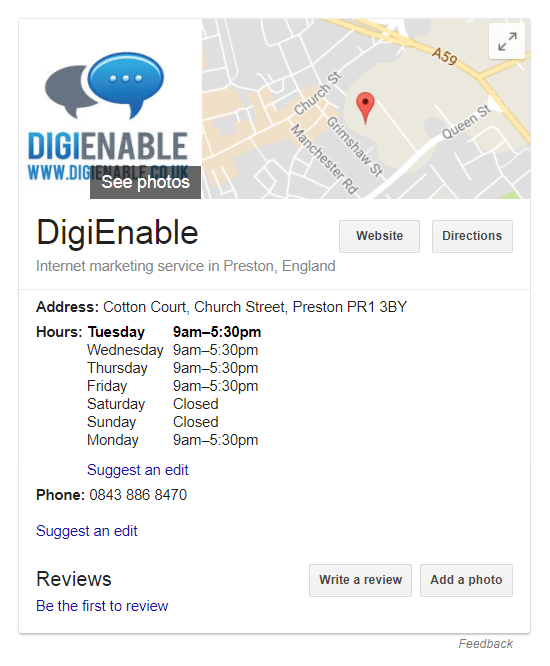 How can your business take advantage of the benefits offered by GMB?
Make sure your NAP is correct and updated
For GMB, Google wants businesses to provide accurate information on their names, addresses and phone numbers (or NAP). Google does not permit the use of P.O. boxes as an address nor does it allow the use of a call center toll-free or freephone number. Businesses cannot append extra information on their names like URLs, special characters or taglines. The name that you should provide should reflect the one which you use on your storefront.
Encourage clients to give reviews
The more reviews your business accumulates, the more likely that its website will rank better in local search. Encourage your customers to write reviews on your GMB page. At the same time, you should invest enough time in checking and responding to the reviews left by your customers. This gives potential customers a positive image that you are attuned to the needs and comments of your clients.
Update business hours
If you have changed your hours of operation or if your business hours change from season to season, such changes should be reflected on GMB. Failure to update your business hours can lead to lost customers.
Check your business's location on the map
After making sure that your address is correct, the next thing that you need to check is your business's location on the map. Check if the marker is positioned correctly. Otherwise, you can simply drag the marker to the right location.
Choose the best categories
Here, the old adage that less is more applies. Select all the categories that you think applies to your business. Remember, the more specific the category, the better. This signals to Google that your business is relevant to searches for that category. However, do not try to overreach and put your business in a category that is remotely related to it. Google will notice.
Add photos
Pictures, along with positive reviews and opening hours, play a crucial role in enticing customers. Make sure that you add photos of your store (both outdoor and indoor areas) so your customers will have a fair idea of what your store looks like and find it easier to find you.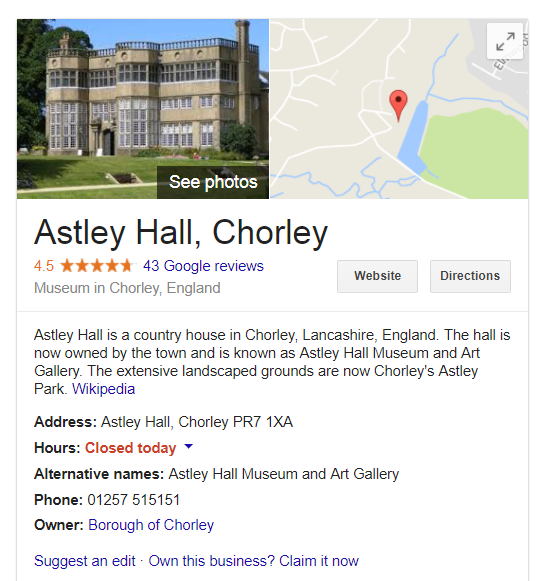 On occasion we find an address is no longer accurate, or the opening hours are wrong – you as the visitor of somewhere can also "suggest edits", this is useful to help others with up-to-date details, but also means you might have a bit of a war on your hands. Recently one of our clients who has seasonal opening hours said a visitor was disappointed to turn up when they had used GMB to source the info, sadly as Google can take a while to update details sometimes, if you do have seasonal opening times, it's good to flag that up in the GMB listing, but also in other platforms like Wikipedia. Do you know if your Wikipedia page is uptodate?
With most GMB, the first line of a Wikipedia page that's relevant will show up, just like in this GMB for a local tourist attraction in Lancashire. SEO can play a big part, even if your business is all about footfall! So make sure you check what Wikipedia says, and update if necessary!