Thanks for joining us for our session on AI tools. Here are the useful links and notes from the session.
This is aimed at an entry level beginners exploration, so there's a mix of insights, demos and practical hands-on activities with some of the free, simple-to-use and open resources, including ChatGPT.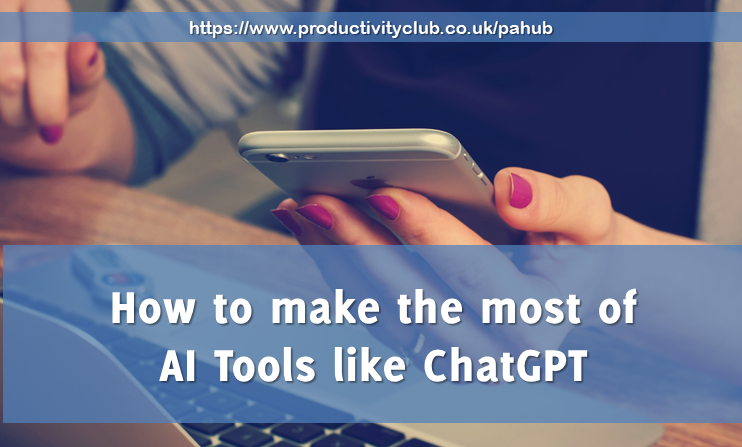 If you require any further info, or would like to book a further bespoke training session or private 121 consultation, please do get in touch.
What Really Is AI?
AI is a machine's ability to perform the cognitive functions we associate with human minds, such as perceiving, reasoning, learning, interacting with an environment, problem solving, and even exercising creativity.
You've probably interacted with AI even if you didn't realize it—voice assistants like Siri and Alexa are founded on AI technology, as are some customer service chatbots that pop up to help you navigate websites.
https://www.mckinsey.com/featured-insights/mckinsey-explainers/what-is-ai
https://www.scs.org.sg/articles/machine-learning-vs-deep-learning
Some Types of AI
Automation (elements of AI inside)
Machine Visioning (captures and analyses visuals)
Natural Language Processing [NLP] (human language by computer)
Generative (Text, image and audio generation)
Machine Learning
Robotics
What Can Be Automated?
Application Programming Interface – api
In built integrations
Your Digital Review Tool
https://www.productivityclub.co.uk/digital-review-tool – free, but sign-up needed. You'll be added to the Productivity Club weekly email list, you can unsubscribe at any time, however if you like these sorts of resources, we think you'll love what we share too!
Our Favourite Free AI Tools for Business
Social Media Sentiment Analysis – Social Searcher – https://www.social-searcher.com
Text Sentiment Analysis Komprehend – https://komprehend.io/
Text Summariser – MonkeyLearn – https://monkeylearn.com/text-summarizer-online/ (We also like the new AI tools inside Zoom Meetings!)
Natural Language Processing Tools
"Natural Language Processing, or NLP is primarily concerned with giving computers the ability to support and manipulate human language." Wikipedia
ChatGPT – https://chat.openai.com/auth/login (GPT=GPT stands for Generative Pre-trained Transformer which is a type of large language model (LLM) neural network that can perform various natural language processing tasks, such as answering questions, summarising text and even generating lines of code.) (Free, but sign-up needed)
Google Bard – https://bard.google.com/chat
IBM Watson – https://www.ibm.com/watson
Pi – https://pi.ai/talk
Example NLP prompts – https://growthtribe.io/blog/chatgpt-prompt
CanConnect – Sales and Marketing tool using AI – https://www.candoleads.co.uk
Generative AI Tools
Text to Image – DeepAI – https://deepai.org/machine-learning-model/text2img
Text to Video – Synthesia – https://www.synthesia.io/free-ai-video-demo#OptimizedForSharing_New (free, but sign-up needed)
Text to Speech – Speechify – https://speechify.com/text-to-speech-online
Language Translator – DeepL – https://www.deepl.com/en/translator
Reasons To Use AI
•Marketing and sales. Generative AI can craft personalized marketing, social-media, and technical-sales content, including text, images, and video.
•Operations. AI models can generate task lists for efficient execution of a specific activity.
•IT/engineering. Generative AI can write, document, and review code.
•Risk and legal. AI models can answer complex questions, based on vast amounts of legal documentation, and draft and review annual reports.
•R&D. Generative AI can help accelerate drug discovery through better understanding of diseases and discovery of chemical structures.
(Taken from McKinsey and Co)
Using AI for Your Business
AI can be a great tool, but just like any shiny new fun tech, don't let it distract you for too long!
Reflect on the following questions…
What are your targets?
What can you use AI for?
Which tools could you usefully use?
What do you want to automate/integrate?
Next up, create a simple action plan with the next 3 tasks you will undertake next to move towards your new goals from this training sessions.
Further Tools, not covered in our session
Remove Backgrounds – https://www.remove.bg/
Social media video editors – https://www.veed.io/create/social-media-video-maker
Audio to text – Otter https://otter.ai/
Keyword extractors – https://monkeylearn.com/keyword-extractor-online/
Writing assistance Grammarly – https://www.grammarly.com/
Magic media on Canva – https://www.synthesia.io/
Text to image – Crayon https://www.craiyon.com/
Socials, PPT, Blogs to Videos – https://fliki.ai/ (free contains watermarks, starts at $21 per month)
Documents to Chat convos – https://askyourpdf.com/
Paraphraser – https://quillbot.com/?gspk=bmlja3JvYWNoNzE0Mw&gsxid=er8UNabd2Fff&pscd=try.quillbot.com Business Name Generator – https://namelix.com/
Copywriting – https://www.jasper.ai Copywriting tool for short form of content – https://www.shortlyai.com/
All in one audio & video editing tool – https://www.descript.com/
SEO for keyword research and blog idea generation – https://answerthepublic.com/
Multi-channel chat – https://manychat.com/
Resume creation – https://resume.io/